Male Art in the Renaissance
One of the defining aspects of the Renaissance is the art, which resulted from this 'rebirth' of man. Men do receive the primary credits for advances in art. In fact, we attribute much of our art today to the changes and wonderful works created in Renaissance times.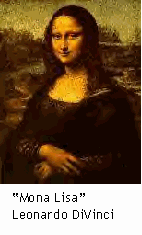 Some of the most viewed pieces in the world today were created in the Renaissance. The "Mona Lisa", for example, painted by Leonardo DiVinci is known to almost every person as a true masterpiece with more value than can have a price placed upon it. Other famous pieces created in this time period include: "Birth of Venus" by Sandro Botticelli, "Ideal City" by Piero Dellafranscesca, and Michaelangelo's famous Sistine Chapel and "The Creation of Adam".

Male art in the Renaissance is larger than life, magnificent, stunning, and appeals to much more than just sight. At first, the brilliant colors draw the eye toward a central figure, usually Biblical. This work of art will then move an eye from point to point, focusing on various aspects so that by then end a thought or message can be portrayed into one's mind. Many artists, including Michaelangelo and Titian, actually painted within churches and chapels. The messages of these paintings would then center around portraying to the congregation some aspect of their faith visually.

The variety of styles used in the Renaissance varies as much as there are artists. Some, like Titian, gave views of a world lush and beautiful with great emotion. Others, like Dňrer, showed great geometry, precision, and underlying meanings.

Titian, "Assumption of the Virgin" Jan van Eyck , "The Arnolfini Marriage"


Sandro Botticelli, "Birth of Venus" Michelangelo, "David"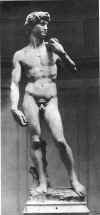 Michelangelo, "The Creation of Adam" Piero Dellafranscesca, "Ideal City"